September 2013 – Dr. Scharine spent a week traveling to and ministering to native people in Nigeria, Africa. He worked with a group of other team members from the U.S. as they setup a clinic and taught basic dentistry to Nigerian citizens.
October 2010 – Dr. Scharine joined the Empower mission team in Liberia to teach and provide dentistry to those in need of care and God's love.
January 2010 -Dr. Scharine returned from another I-TEC missions trip. This time their team went to Thailand to teach dentistry to native believers. You can learn more about this at www.itecusa.org.
September 2009 -Dr. Scharine and Bonny returned from a trip to Kenya with I-tec where they revisited some of the natives that had previously been taught dentistry to check on their progress. They also trained some new individuals.
August 4-9, 2009 -Dr. Scharine and his whole family returned from a Christian Dental Society conference in Breckenridge, Colorado where he both heard others' missions experiences and shared his own. After two years, he handed over the reins of the Christian Dental Society presidency to the president-elect. They especially enjoyed hearing Billy Graham Paulose speak about his missions work in Rameswaram, India. To read about the ministry in India, visit www.bcmindia.org.
June 26, 2009 -Dr. Scharine, his wife Bonny, and his daughter, Renee, went to La Crosse to participate in the Wisconsin Dental Association's "Mission of Mercy" to help provide dental care to low income families. Read more at www.wda.org/categories/46-mission-of-mercy.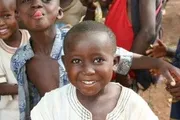 May 2009 -Dr. Scharine returned from a week in Ghana, Africa participating in a study with I-tec regarding the quality of dental care being provided there by indigenous natives that were taught by I-tec three years ago. The goal of the research was to see if there was a noticeable difference between extractions being performed by certified dentists from the U.S. and the Ghana natives who had previously been taught basic dental skills. The results of the study were excellent. Researchers could not tell a difference between the extractions performed by certified dentists and those done by Ghana natives.
May 2009 -Dr. Scharine and Bonny spent a week in Belize, Central America. There they worked in a clinic in Patchakan. This dental clinic is staffed solely by short-term missionaries and provides quality dental care to individuals at whatever price they can afford.
March 2009 -Dr.Scharine and Bonny arrived home safely after spending time in Ecuador with I-tec, training indigenous people to perform basic dentistry skills.
September 2008 -Dr. Scharine and Bonny returned home from a missions trip to Kenya where they worked with I-tec again. The trip was successful and rewarding as they were able to see God work through the individuals they were teaching.
August 2008 -Dr. Scharine and his family recently returned from a Christian Dental Society conference. The Christian Dental Society is an organization that seeks to provide dentists with opportunities to do dental missions worldwide. Dr. Scharine is President of the CDS this year and next year. For more information about CDS, feel free to visit their website at www.christiandental.org.
April 2008 -Dr. Scharine and Bonny went this April to return again to the Patchakan medical clinic in Belize, Central America. They stayed at the clinic and worked to meet not only the physical and dental needs of patients, but also their spiritual needs. Your prayers were greatly appreciated for their safe travel and the opportunity they had to treat many patients.
December 2007 -Dr. Scharine and Bonny returned in the middle of December from spending roughly ten days in India on dental missions. It was a very rewarding experience for them and they were able to minister to many individuals. Please pray for the continued needs of these Indian people.
September 2007 – Dr. Scharine and Bonny returned the 14th of September from spending 12 days on a missions trip to Uganda with an organization called I-TEC. The purpose of their trip was to teach indigenous people how to do basic dentistry–mostly extractions. The people who came to be trained were actually from the country of Sudan in Africa; however, it was too dangerous for the missions team to go to Sudan. Therefore, the people from Sudan traveled three days on a bus to get to Uganda to be trained in basic dental care. The trip was quite a success, and was very encouraging to both Dr. Scharine and Bonny, it is great to see what God is doing in these areas. For more information about I-TEC and their mission, go to www.itecusa.org.
June 2007 -Dr. Scharine and his wife, Bonny, just returned from a dental missions trip that they took early this June to Belize, Central America. They stayed at a medical clinic down there in a small inland village called Patchakan. The need for dentistry is great down there, and the clinic has a full-time doctor but no full-time dentist. Though they usually work out of the clinic, this year, Dr. Scharine and Bonny spent most of their time down there working just outside of a school in a mobile clinic (a large camper/trailer). Dr. Scharine and his family have gone to Belize annually for several years now. They typically see some awful dental problems since many people in Belize don't know proper dental care–for example, children are allowed to suck on sugar cane stalks without brushing their teeth. Anyway, all this to say that Dr. Scharine and Bonny really appreciated your prayers while they were in Belize and they had a great trip! To learn more about this, you can go to the Mission to the World website at www.missionaryclinicbelize.org.
Just a note: Dr. Scharine is ALWAYS eager to share his experiences with you, and if you have any questions about these trips he'd love to chat with you about them!